NTS launches ORGANIC Home Garden Products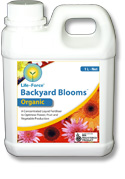 We are excited to launch two new ORGANIC products in our home garden range.  These Backyard products are simple to use, cost effective and will provide visible results.  If you are a keen gardener and have been looking for an optimum organic fertiliser then the Backyard products are ideal.
Backyard Boost is a multi-purpose concentrated liquid fertiliser containing ideal levels of essential plant nutrients along with a range of other trace elements.  This organic blend will optimise soil and plant health in your garden.
Backyard Blooms is a perfect partner to Backyard Boost which will optimise flowers, fruit and vegetable quality in your home garden.
These products are also available as a twin pack – Backyard Box.
To order:
Order from your local NTS Distributor or contact NTS on +61 7 5472 9900 or contact us.
Tags: garden fertiliser